UltraBar 2 From 89g

Light and impact resistant handlebar.
Bend: 4°+4°
Rise: 0mm
Width: up to 580mm
Weight: see table below
Bar end: compatible in plugged version
Stem clamp diameter: 25.4mm
Maximum rider weight: 100kg / 220lbs
Material: Carbon / Alloy composite
Finish: Natural carbon with graphics

Download user manual
Weight by length:

520mm

540mm

560mm

580mm

UltraBar 2 shortable*

89 g.

92 g

95 g

98 g

UltraBar 2 BEC * *
(with alloy reinforcements)

97g

100g

103g

106g

UltraBar BEC * * "classic"

-

-

102g

105g
* Shorter lengths are available upon request
** BEC= Bar-Ends-Compatible

Available in version 2 and "classic" graphics.

This handlebar is the results of a smart composite technology: carbon fibers are directly woven in a tubular pattern with no junctions and are then molded at very high pressure onto a high-grade butted alloy tube. By contrast, conventionally-wrapped handlebars are made with joined sheets of carbon fiber fabric and are then molded at only rather moderate pressure.
Useful graphics enable fast and precise lever and shifter positioning.
Benefits from a more efficient fiber orientation are a much more constant wall thickness, and a drastic reduction of weight and critical areas.
BEC version includes alloy reinforcements to support the bar ends clamping forces.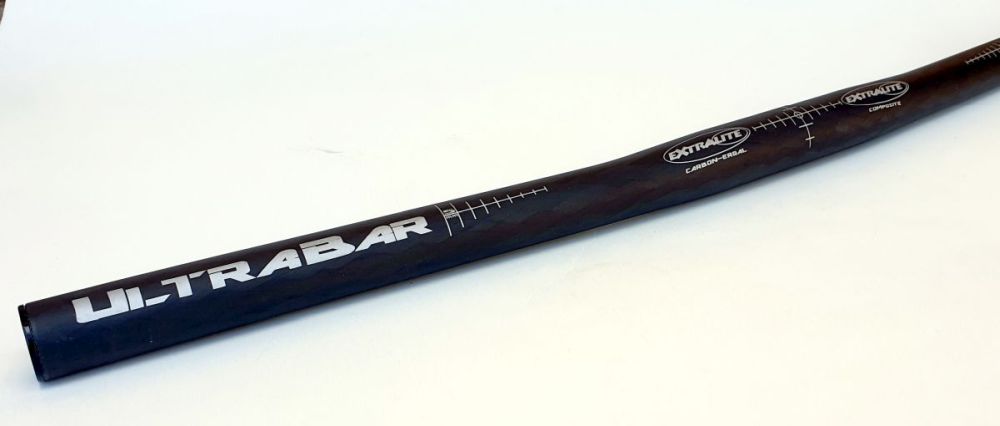 Hundreds thousands of fatigue test cycles, exceeds EN safety standard requirements!
UltraBar 2 exceed EN standard fatigue and static test requirements.
Warning:
UltraBar 2 should be only used in combination with a stem that features well rounded edges at the bar clamp (bar clamp diameter: 25.4mm), such as our Extralite UltraStem UL3.